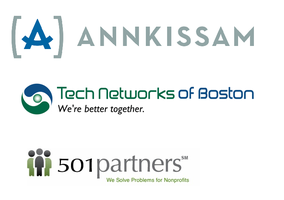 I love working with Annkissam, and one of my favorite tasks is assisting in organizing their pro bono, sales-pitch-free  tech consultation events for local nonprofit professionals.
The next pro bono event will be on the evening of March 31st at the Cambridge Innovation Center.
Tech Networks of Boston and 501 Partners will be serving as co-hosts; I love to see these three mission-driven nonprofit technology assistance firms collaborating to serve nonprofit organizations.
I also love to see a wide range of other nonprofit technology mavens volunteering a few hours of their time at these events to offer consultations to any of the nonprofit guests who request assistance and advice.  In addition to the immediate help that this provides to the attendees, the event is a opportunity for nonprofit techies to do skills-based volunteering together, and sends a crucial message about our ability to collaborate.
Here is the all-star March 2015 team of nptech volunteers!
Tagged: 501partners, advise, annkissam, assistance, benjamin tuck, cambridge incubator, cambridge innovation center, collaboration, collaborative, consultant, consultation, daniel budris, debra askanase, gavin murphy, jenn taylor, jonathan sachs, josh shortlidge, kevin palmer, khalid mustafa, march 2015, marlene archer, michael johnson, mission-based, mission-driven, nicky mcatty, nicole shiner, noah schectman, nonprofit, nonprofit organizations, nonprofit technology, nonprofit technology assistance provider, nptech, ntap, phil loomis, philip chodrow, pro bono, sales-pitch-free, skills-based volunteering, stefanie archer, steve backman, tech networks of boston, tim gassert, volunteering, volunteerism, volunteers, zachery tapp